Piecing Perspectives- Composing with Units
Location:
Madeline Island
Piecing Perspectives- Composing with Units
Piecing Perspectives–Composing with Units
Join piecing experts Sarah Bond, Cindy Grisdela, and Maria Shell for a week long MEGA workshop focusing on Composing with Units. We will explore a variety of pieced units and styles of piecing along with how to build quilt compositions using units. Topics covered include but are not limited to blending units, repeating units, manipulating color and units, designing with units and structures to use when building with units
Join piecing experts Sarah Bond, Maria Shell and Cindy Grisdela for a 360 degree exploration of contemporary pieced patchwork! Each student will be creating their own  style quilt inspired by lessons in color, design, composition, and technique.
Each day students will gather to hear ALL three teacher's perspectives on a particular subject matter. Students will decide which approach of the three presented they would like to incorporate into their own quilt. For example, each teacher will give a mini lecture on their approach composing with units, the student can then decide to incorporate one, two, or all three perspectives into theor quilt. Think of it as a la carte quilt making! When lectures are not in session, teachers will be available for small group demos, one on one consults, and more.
Workshop Schedule – Lecture and Demo Sessions will be held at 9AM and 1PM daily
Monday
AM—Lecture & Demo on Color
PM—Lecture & Demo on Ideas for building with units
Tuesday
AM—Lecture & Demo on Creating your Master Design—Improv or Not
PM—Lecture & Demo on various techniques
Wednesday
AM—Lecture and Demo on blending units and repeating units,
PM—Lecture and Demo on manipulating color and units
Thursday
AM—Round Table Q&A about Construction Issues and Moving Your Composition Forward
PM—One on one Student Consults—Student will sign up in advance to get feedback on design, composition, and technique.
Friday
9AM—11AM Final Stitching Frenzy
11AM—The Big TADA–A showcase of Student Work with lots of oohs and ahhs.
1PM—Continued one on one consults
Workshop Details
Instructor: Maria Shell
Shell's quilt compositions are grounded in tradition, meant for the wall, and surprisingly modern. She is an improv quilt designer who likes to control all aspects of the quilt making process. Cut, Press, Stitch, Shape is her quilting motto.
Instructor: Cindy Grisdela
Cindy creates abstract designs in fabric with a focus on color and line. Her work is designed improvisationally without a preconceived pattern, a little bit like jazz music, where each decision about color and shape influences the next.
Instructor: Sarah Bond
Sarah Bond is a piecer by preference – it's her favorite thing to do. She looks at almost every design with her brain tuned to construction and is always thinking about how all her elements will come together. Those elements are inspired and informed by classic quilt elements. She loves complexity and repetition.
| Dates: | 09/25/2023 to 09/29/2023 |
| --- | --- |
| Level: | All Levels |
| Tuition: | $1,100 |
| Materials List: | Download |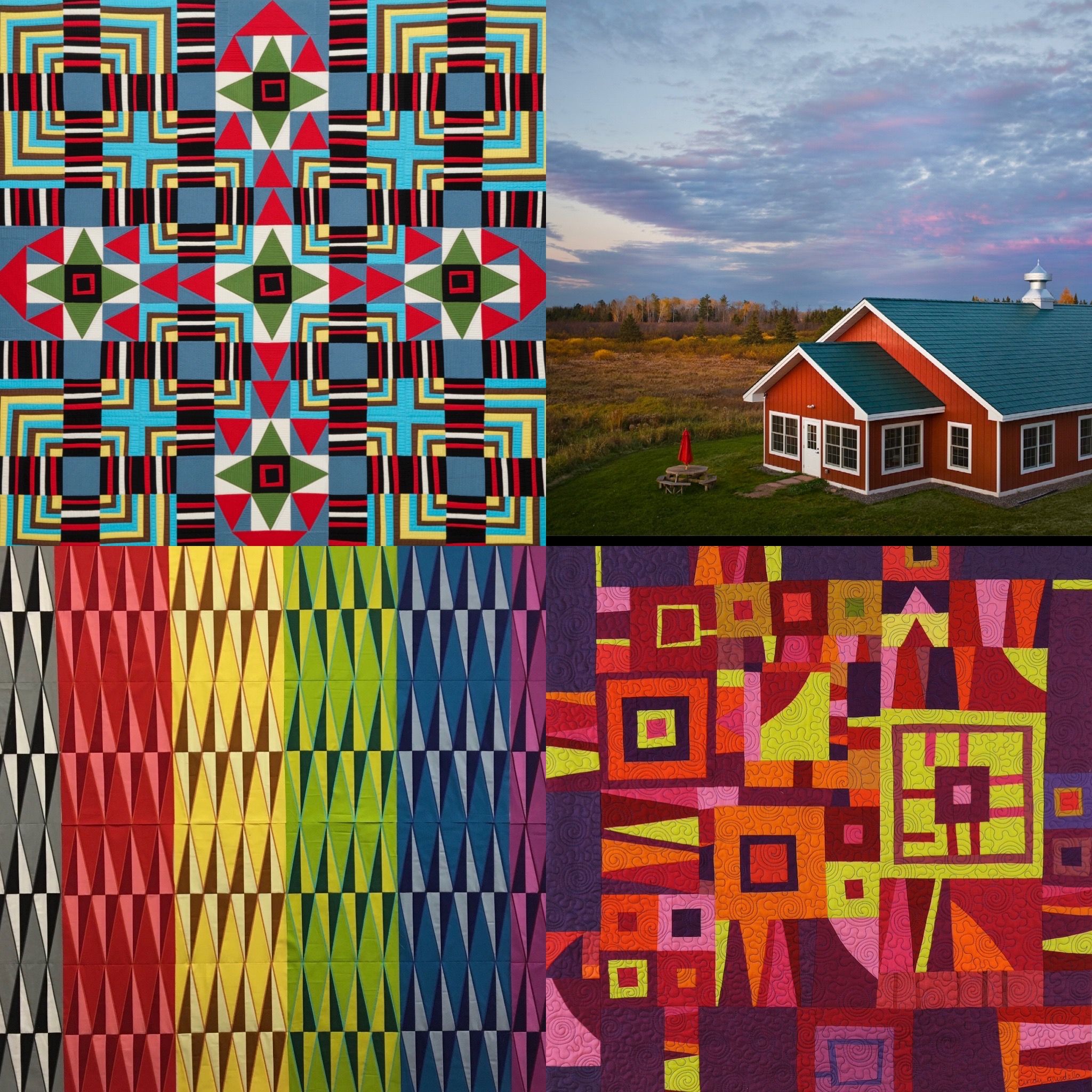 Ordering Online is 100% Safe & Secure
Similar Workshops You May Like