Sketching Haven: A Summer Retreat with Four Internationally Renowned Artists
Location:
Madeline Island
Sketching Haven: A Summer Retreat with Four Internationally Renowned Artists
Experience an unparalleled opportunity to enhance your artistic skills with four exceptional instructors. Eduardo Bajzek's workshop focuses on capturing trees and landscapes, while Jane Blundell's workshop specializes in color and botanical sketching. Oliver Hoeller guides participants in telling the story of Madeline Island through sketching, and Nina Johansson immerses you in everyday life in our coastal harbour village. With diverse techniques and personalized guidance, these workshops offer a comprehensive learning experience for participants to refine their skills and explore various aspects of sketching and painting.
Participants are expected to have some mobility, as sketching locations may require a short to moderate walk, while carrying a light bag.
Workshop Itinerary
Students will interact with a new instructor and visit a new location everyday.
Instructor: Jane Blundell- Botanical Sketching
Morning Session:

Exploring a range of sketching tools and techniques to capture botanical subjects from life.

Introduction to watercolor characteristics and color mixing reference charts.

Focus on mixing greens and achieving color harmony.

Techniques for sketching leaves, flowers, and other natural elements using pencil and pen.

Afternoon Session:

Field trip to explore the natural world in Madeline Island, including flowers, trees, and vegetables.

Applying sketching techniques learned in the studio to create detailed botanical studies and faster sketches.

Individual guidance from the instructor to refine compositions and provide feedback.

Group discussion and sharing of sketches for further feedback and suggestions.
Instructor: Eduardo Bajzek- The Trees and the Island Landscape
Morning Session:

Discover the essence of incorporating Nature as the predominant theme, exploring its graceful and meaningful presence in crafting artistic compositions.

Exploring different types of linework, shapes, and edges variety associated with trees.

Understanding the structure consistency of trunks and branches for a balanced composition.

Developing the skill to see and sketch tree silhouettes.

Afternoon Session:

Outdoor sketching session in Madeline Island, combining nature and buildings in unique compositions.

Demonstrations by the instructor on choosing and framing subjects, organizing layers of tone, and creating depth.

Participants will create their own landscape drawings, applying the learned concepts and receiving in-person assistance.

Feedback session for participants to share their work and receive final considerations.
Instructor: Oliver Hoeller- Sketching the Story of Madeline Island 
Studio Session:

Strategies for assembling elements into a sketch that tells a story.
Understand the role of establishing shots and details.
Techniques to make sure the image is rich yet readable.

Field Trip:

Explore Madeline Island Museum and its surroundings to discover visual elements and ideas.
Plan and execute a sketch around historical artifacts to capture a story inspired by the island's diverse history.
Personalized assistance from the instructor to refine composition and arrangement of elements.
Ongoing demonstrations and feedback on emerging topics.
Instructor: Nina Johansson- Everyday Life in a Lakeside Town
Studio Session:

Key concepts for sketching everyday scenes in Bayfield, focusing on perspective, composition, and depth.

Techniques to convey perspective without construction and create a wide overview of scenes.

Choosing main focal points and planning compositions.

Field Trip:

Exploring the coastal town of Bayfield, sketching streets, buildings, lake views, and boats that depict everyday life.

Starting together as a group, working from big shapes to smaller details.

One-on-one support from the instructor while capturing the essence of the lakeside town.

Group discussion and sharing of sketches, receiving feedback and suggestions from Nina.
| Dates: | 07/08/2024 to 07/12/2024 |
| --- | --- |
| Level: | All Levels |
| Tuition: | $1495.00 |
| Materials List: | Download |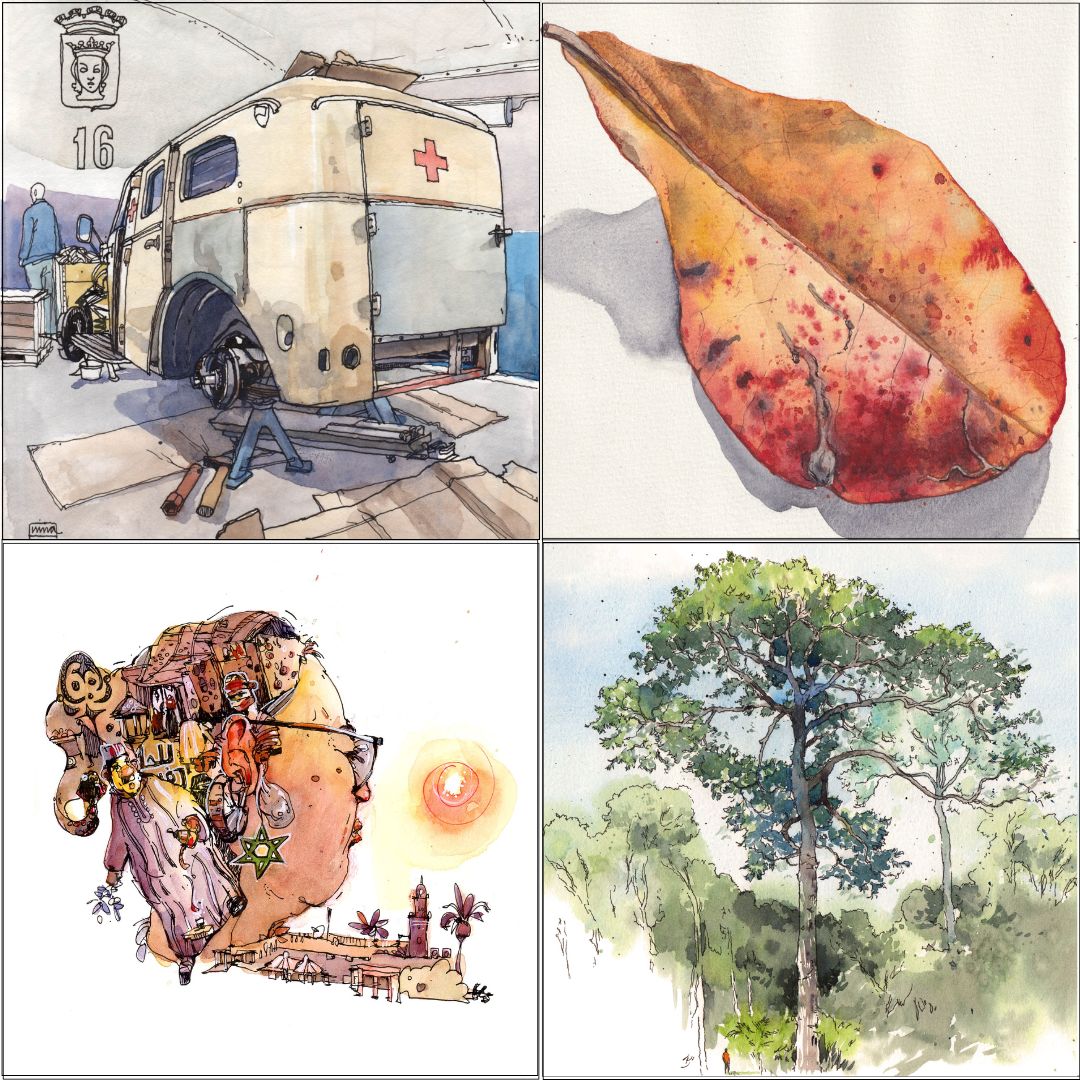 Ordering Online is 100% Safe & Secure
Similar Workshops You May Like