Urban Sketching Southwest Retreat
Location:
MISA West (Santa Fe)
Urban Sketching Southwest Retreat
Workshop Description
Our Urban Sketching Retreats are among MISA'S most popular workshops, and the enchanting settings of Santa Fe have been a source of inspiration for artists since its earliest days. For five days in this most unique of historic American cities, students will learn urban sketching techniques with internationally recognized instructors Shari Blaukopf, Paul Heaston, Uma Kelkar and James Richards. They will share their skills and experience from decades of sketching and teaching around the globe.
Santa Fe's stunning landscapes, beautiful architecture, mountain views, and traditional plazas offer a wealth of magnificent scenery and stories for sketching. Each day students will work with a different instructor and to learn their sketching approach and techniques. You will work with them from breakfast into late afternoon. 
In the evenings you will have the opportunity to join fellow students and experience the unique regional cuisine followed by evening discussions and sharing of sketchbooks. 
This is a rare opportunity to take your urban sketching skills to the next level. Join us and experience this world-class team of instructors in one of America's most inspirational settings. 
Participants are expected to have some mobility, as sketching locations may require a short to moderate walk, while carrying a light bag.
Workshop Details
Instructor: Shari Blaukopf
Capturing Color, Light and Shadow in Santa Fe
Stand in any of Santa Fe's crossroads and public spaces, and look around. From almost any vantage point, you'll see the warm, subtle hues of adobe architecture, a slash of color from a weathered turquoise door, and the deepest darks from rooftop timbers. You'll see shadowed corners and bright tiles, jumbled spaces and historic details that enliven one of the Southwest's most intriguing urban spaces. 
This workshop will teach you how to recreate and bring order to the exciting patchwork of lights and darks in sunny Santa Fe. Because painting in Santa Fe is all about capturing light, color and shadow — especially shadows that transcend mere grey. 
Ask yourself: What happens to a shadow as it travels down a building, crosses the narrow ground and shoots up the building opposite? What is the color of the shadow cast by chile ristras on a yellow wall, or a striped awning over a shop front, or a sun-bleached steer's skull beside a Navajo rug? We will observe and record the shapes of sunlit spaces, the color of shadows, and the quality of light as it crosses all these complex forms.
https://www.youtube.com/shorts/-te8jrGcvDU

Instructor: Paul Heaston
Developing Good Habits: How to Get Started Sketching Everyday
The great thing about sketching is the materials are ultra-portable so you can sketch on the go whether you're traveling or going about your daily routine. In this workshop I will show students how to get into the habit of maintaining a daily sketching routine so they can feel comfortable sketching anything they see wherever they are. We will sketch a variety of subjects in and around Santa Fe in pen and ink in a small sketchbook. By workshop's end, you'll have new skills and a new level of comfort with the daily observing and recording that defines urban sketching.
https://youtube.com/shorts/BtKKtk6a7Uk?feature=share

Instructor: Uma Kelkar
Urban Vignetting and Storytelling in Gouache
If you have never used gouache, but have been curious, this is the workshop to take. Instructor provided pigment set of only 3 pure colors + black and white will automatically focus you on color mixing – which is the primary joy in gouache. Having a non-fussy palette clipped to your sketchbook will allow you to walk around the historic Santa Fe plaza as you take notes of colors and forms and make a walking tour journal of the day. Class will begin with teaching you ways to arrange a palette when on a move, how to keep the pigments wet at such an elevation and how gouache's overlapping and covering power relieves the sketcher from adhering to strict forms while painting. Mixing colors and applying them in vignettes and then connecting them by a handwritten story will give you the day's journal in gouache. When you share this image of your day with others, you will have followed the Urban Sketching manifesto, "Show the world, one sketch at a time". You are now an Urban Sketcher.
https://youtu.be/vTBPW_TBIEU

Instructor: James Richards
Sketching Spirit of Place
Join award-winning travel artist, urban designer and educator James Richards in one of his favorite cities, Santa Fe. Jim will share his key lessons and techniques from decades of travel and urban sketching across the globe. You'll learn the ideas and methods behind Jim's less rigid, more accessible approach to on-location sketching that goes beyond technical accuracy to capturing the essential character, life and energy of a special place. You'll learn to use sketching as a tool for discovering a unique spirit of place, and you'll forever see city scenes in a different way. 
Jim's workshop will include a short classroom component and daily outings around the historic plaza and surrounding historic Santa Fe area.
https://youtube.com/shorts/HcfVvt_77eM?feature=share

| Dates: | 04/17/2023 to 04/21/2023 |
| --- | --- |
| Level: | All Levels |
| Tuition: | $1395.00 |
| Materials List: | Download |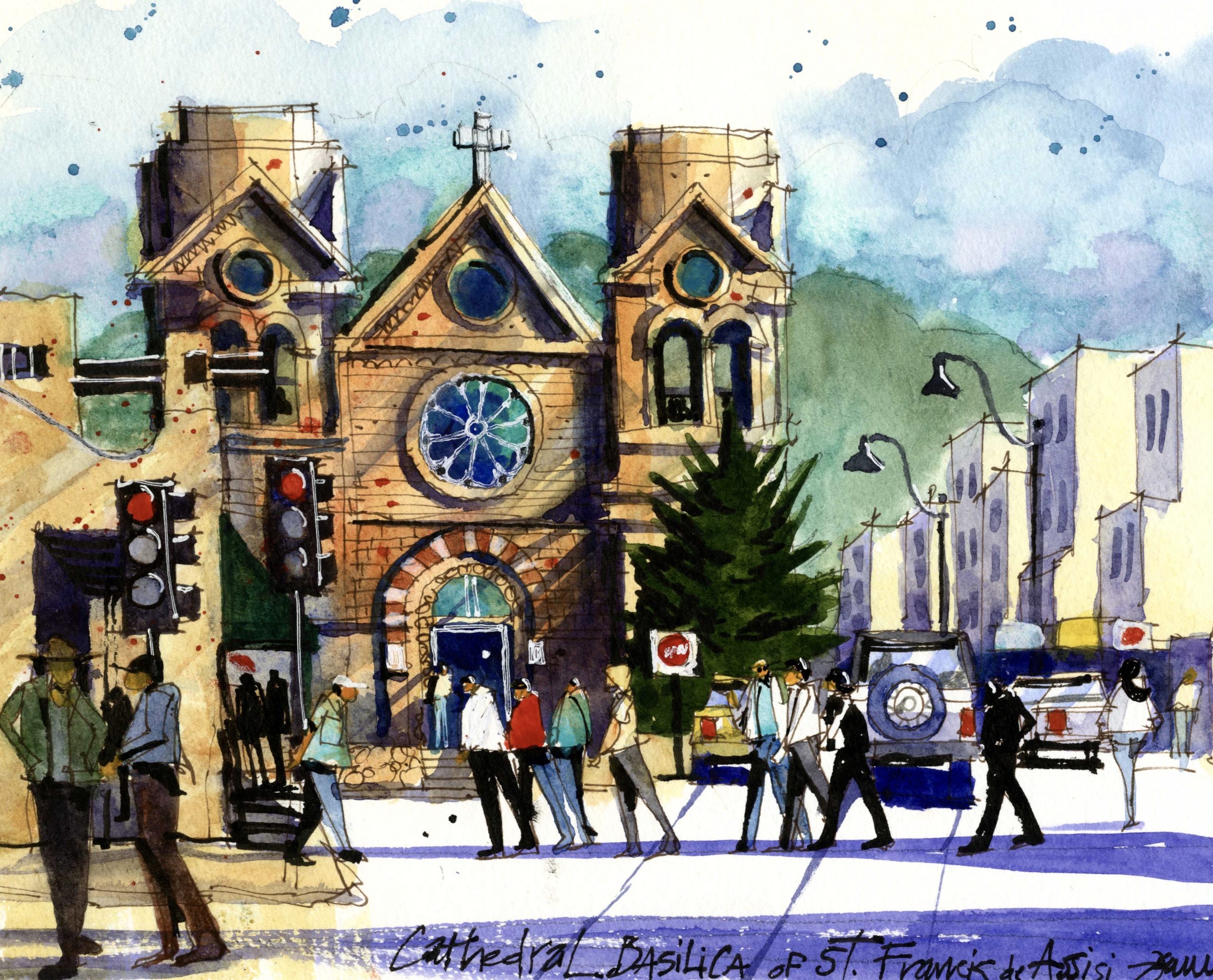 Ordering Online is 100% Safe & Secure
Similar Workshops You May Like