STRIP-PIECING & RESTRUCTURING: Part II At Tanque Verde Ranch
Location:
MISA West (Tucson)
STRIP-PIECING & RESTRUCTURING: Part II At Tanque Verde Ranch
Strip-piecing is defined as a way of creating a "fabric vocabulary" out of existing fabrics that have been cut selvage to selvage. It is an invaluable way to learn more about color, value usage, proportions, line and shape in a very fluid manner.
• STRIP-PIECING: To start out, in PART II, students will be given new design exercises that outline how to create specific and often more complex fabric vocabularies (known as strip-pieced fabrics). In creating these brand new fabric vocabularies, students will develop the muscle memory needed to cut free-hand quickly and fluidly a large variety of widths of colors.
• These New Design Exercises will encourage:
THE EXPLORATION OF LINE
THE EXPLORATION OF WIDER WIDTHS OF SHAPE
THE EXPLORATION OF A WIDER USE OF VALUE
THE EXPLORATION OF A WIDER USE OF FLAT COLORS
***As students become more efficient machine-piecers, they will use the resulting strip-pieced fabrics in restructuring to explore more advanced figure/ground composition.
• RESTRUCTURING: Next new Design Exercises will push students to cut improvisationally all sorts of SHAPES and LINES (ELEMENTS) out of their already strip-pieced fabrics. These elements will be used in restructuring which means combining shapes and lines into new figures or configurations. As a result, students will become more experienced in construction and engineering techniques and more comfortable with generating ideas that promote excellent figure/ground composition.
• Color – and the values of color from light to dark (5 steps in value) – will be emphasized in all exercises so a great selection of fabrics based on these values must be brought to this workshop. Students will be working in SOLID COLORS and graphic prints, plaids and stripes. Do not bring florals or other types of prints.
Students must read the fabric list and supply list and come prepared. These lists are accurate!!! Note regarding the fabric lists:
Concentrate on collecting DARKS and MEDIUM DARKS!
Concentrate on collecting LIGHTS and MEDIUM LIGHTS!
Concentrate on collecting BRIGHTS!
Concentrate on collecting FLATS and GLOWINGS!
Concentrate on collecting PLAIDS!
Concentrate on collecting STRIPES!
Concentrate on collecting GRAPHIC GEOMETRICS!
If students want to learn to work more effectively, more efficiently from "instincts" and "intuition" they must come with an open mind and no agendas, ready for growth and for risk-taking!
PRESENTATION
Optional but important: Each student should come prepared with a digital presentation/laptop or 3-6 actual quilts and be prepared to make a short (3-5 minutes maximum) but articulate presentation about their work including future goals. The Ranch  provides use of a digital projector connected to a laptop.
***Students are required to register for Part 1 and Part II
Independent Study options are available for BOTH weeks only
Images by ©Patricia Guthrie and ©NancyCrow
| Dates: | 01/15/2024 to 01/19/2024 |
| --- | --- |
| Level: | Beginning to Intermediate - Prerequisite: Good machine-sewing skills. Sewing machine used. |
| Tuition: | $1350.00 |
| Materials List: | Download |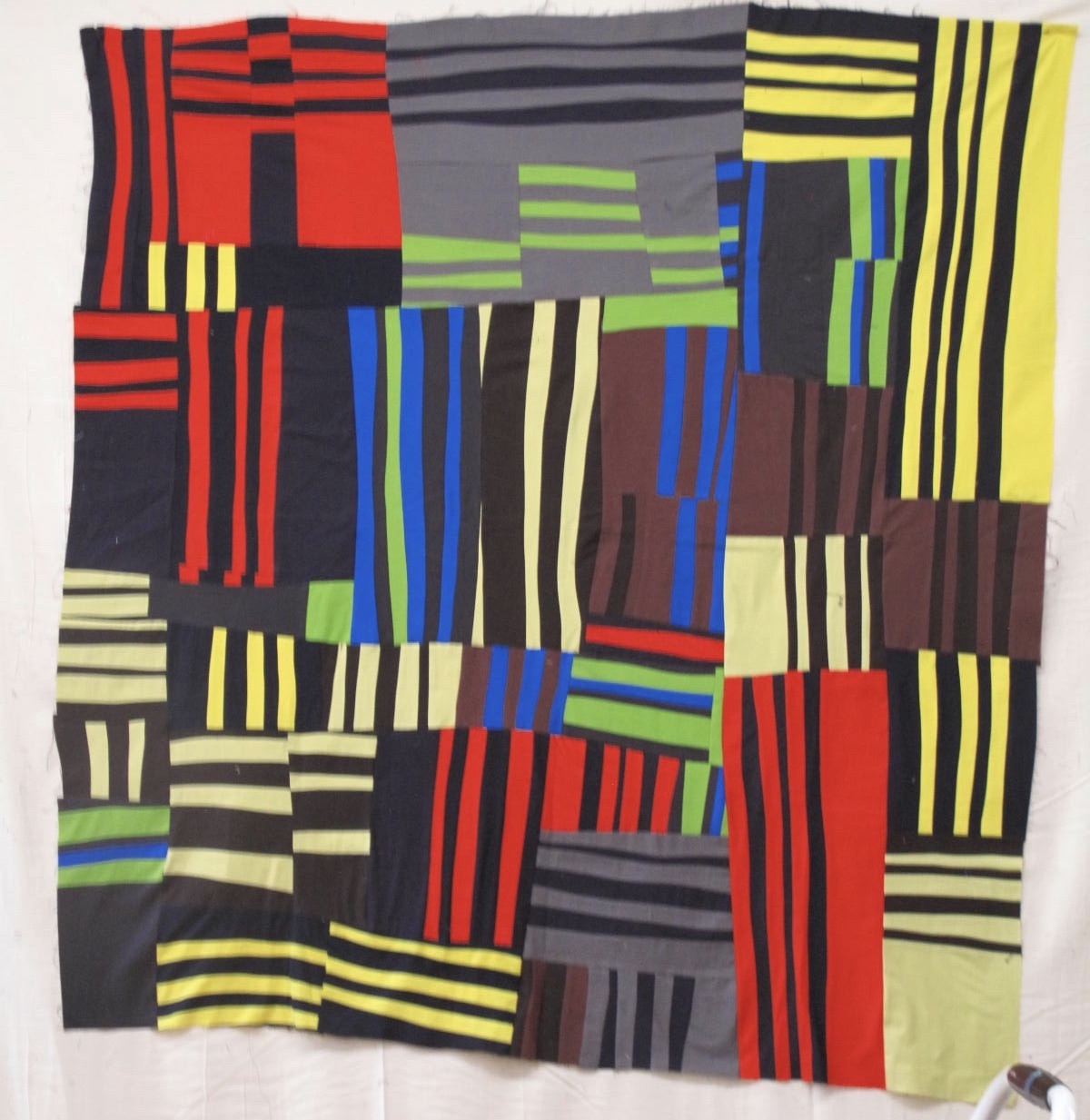 Ordering Online is 100% Safe & Secure
Similar Workshops You May Like