Folk Art In Santa Fe: Creating With Hand-Dyed Wool And Textural Fabrics
Location:
MISA West (Santa Fe)
Folk Art In Santa Fe: Creating With Hand-Dyed Wool And Textural Fabrics
Situated in the picturesque Sangre de Cristo foothills, the city of Santa Fe is overflowing with history and inspiration, it is truly a creatives' destination.
Join Sue on a 6-day creative adventure in this gem of a city!
Our week will begin with a private tour of the Museum of International Folk Art. Together we will tour their vast private collection of artwork and textiles, sourced from far and wide, to seek inspiration. With assistance from Sue and her unique eye for color and composition, you will design a unique piece, drawing on inspiration from our museum tour and the sights and sounds of the historic downtown area we will be enjoying throughout the week.
Day 2 we will begin work on composing and layering the backgrounds of our pieces. Sue will share her process for creating a balanced background, layering different shapes and textures to add depth and interest. She will share specific techniques she employs on her backgrounds, including but not limited to freezer paper templates, using acrylic templates, needle turn appliqué, and English paper piecing.
Day 3 we will focus on foreground design using wool & cotton appliqué. Sue will explain her theory for adding texture using textiles of varying fiber content. Then, depending on class interest, she will share her techniques for creating unique appliqué elements, including things like Dorset buttons, crocheted & knitted elements, embossing velvet, ribbon work, etc.
For the remaining three days, Sue will lead an expedition into the world of creative stitching!  Sue will explain her methodology behind her use of different thread types and weights to achieve specific outcomes. Sue will explain how she chooses which stitch to use, as well as where and how to incorporate certain stitches with specific appliqué elements. This is a creative class, it is meant to engage and challenge participants by putting pen to paper and needle to fabric to empower and give voice to your unique worldview.
| Dates: | 04/28/2024 to 05/03/2024 |
| --- | --- |
| Level: | All Levels |
| Tuition: | $1,640.00 |
| Materials List: | Download |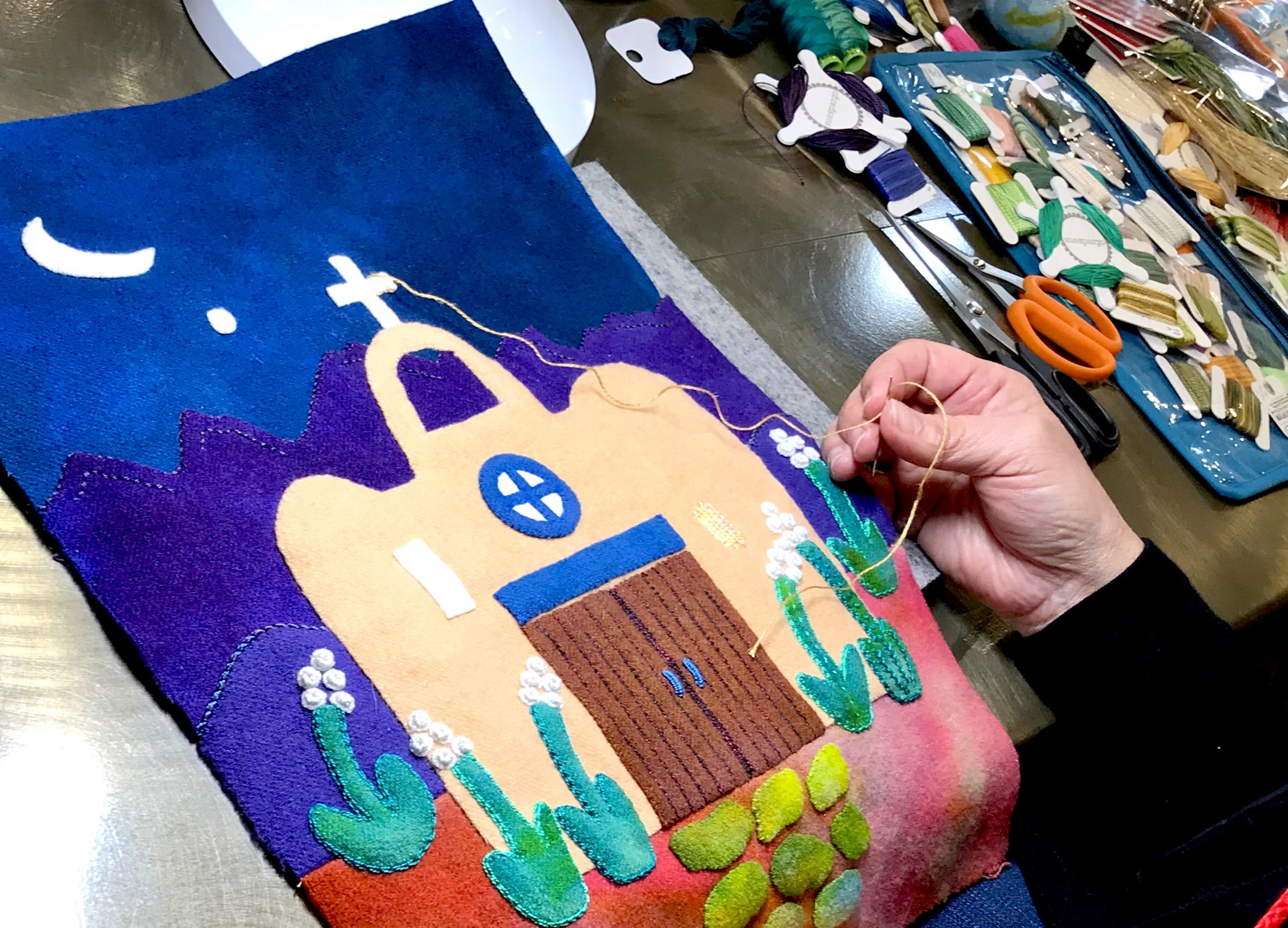 Ordering Online is 100% Safe & Secure
Similar Workshops You May Like