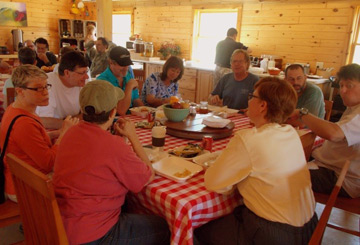 Meal Plans
We offer a gourmet meal plan with all of our on-campus lodging packages. Daily breakfast and lunch, and two on-campus dinners are served in our spacious Barn dining hall. For the other evening meals, enjoy the sights and sounds of Madeline Island at one of the five Island restaurants overlooking Lake Superior sunsets.
Our delicious gourmet meals are prepared by master chef Patti Holman, owner of the renowned Fat Radish restaurant in Bayfield, WI. Her handcrafted meals are filled to the brim with local and organic ingredients. All meals are tailored to your dietary needs, vegetarian and
gluten free options are always available.
Unlimited healthy snacks and beverages are always available 24/7 in our dining hall and workshop studios. We take great pride in providing fresh fruits from our famous Bayfield Orchards and our signature sun tea. You'll always find our chocolate chip cookie jars full morning, noon and night.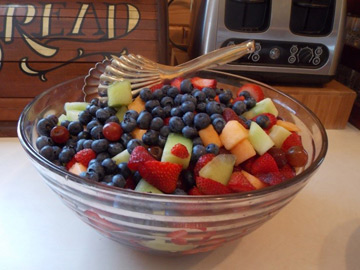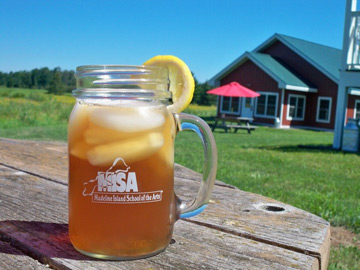 Prior to the workshop you will receive a dietary form for any special needs you may have.
Off-Campus Students
You may purchase a full meal plan even if you stay off campus. We highly recommend this because you will enjoy the camaraderie of your instructor
and classmates and it will greatly enhance your workshop experience.
"Food was outstanding! Thanks for providing such nourishing and tasty food and wine. I appreciate all of the details – food, comfortable accommodations, good internet, beautiful surroundings that allowed me to rest and complete creative work." – MISA Alum
---
"The best part of the week is having lots of time to sew…then the food is ready." – J.K., CA