We Are Proud of Our Heritage
Early Voyageur Fur Traders on Lake Superior
Skater – Island Ferry Service Begins – 1920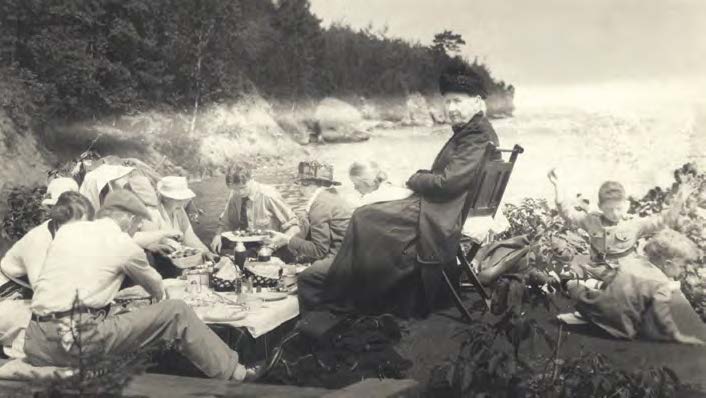 Picnic on Basswood Island – 1925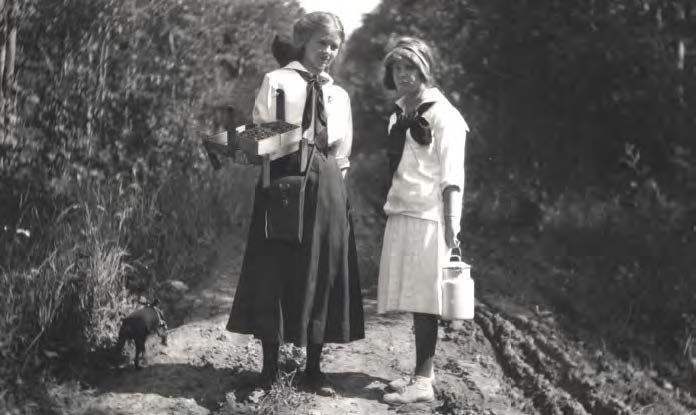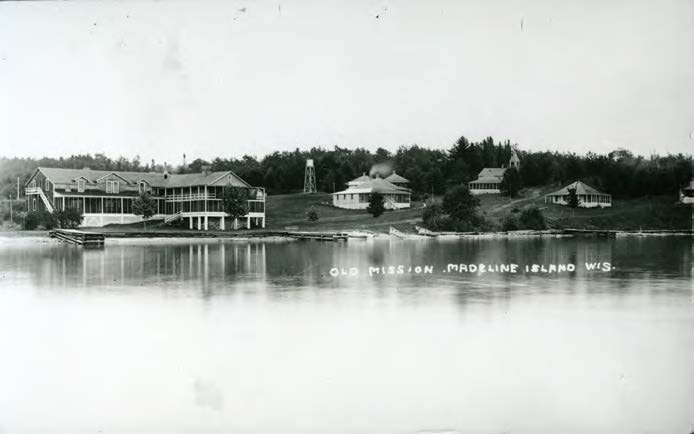 Mission Inn Resort – 1933
Islanders have a long, long tradition of making things – both utilitarian and artistic – which goes back at least 350 years.
The earliest written history places French explorers and voyageurs in the area by 1660, but Native American oral traditions place the Ojibwe on the Island at the time of Columbus. We do know that Native Americans, whether Ojibwe, Ottawa, Huron, or Sioux, occupied the Apostle Islands for hundreds of years prior to that period. The Ojibwe considered the Island home and was known to them as Mooningwanekaaning ("The Home of the Golden Breasted Woodpecker").
In 1663, Pierre Radisson (1636-1710) and brother-in-law Medard Groseilliers (1618–1696), both French explorers and fur traders, arrived on the Island and established La Pointe as a fort and fur trading post which at that time was considered to be New France territory.
For the next 150 years, the Island became an important outpost for French, British and American fur traders. The Seven Years War (1756-1763) between Great Britain and France saw the collapse of New France and the rise of British and American companies in the fur trade.
Michael Cadotte was born in 1764 to a French father and Anishinaabe mother in Sault St. Marie. He often travelled the south shore of Lake Superior with his father who was a fur trader with the French, and later the British North West Company. In 1794 Michael re-founded the fur trading post at La Pointe and soon after married Ikwesewe, the daughter of Chief White Crane of the Anishinaabe at La Pointe. Ikwesewe converted to the Roman Catholic faith and her Catholic Saint's name was Madeline, for whom the island is named.
​
Cadotte became the lead trader on the south shore of Lake Superior. Following the exclusion of Canadian traders from U.S. territories after the War of 1812 the fur trade on Lake Superior came under the control of the American Fur Company, founded by John Jacob Astor in 1808.
Astor built a fur trade monopoly, managing a business empire that extended throughout the Great Lakes region and Canada, and later expanded as far as the American West and Pacific coast. The business made him one of the first multi-millionaires in the US. In 1830, seeing the decline in demand, he diversified into New York real estate.
After the decline of the fur trade industry, other businesses developed in the region, including logging, commercial fishing, and brownstone quarrying for buildings in Chicago and New York.
​
Summer tourism began in the mid-1890s, and artists began to discover the beauty of Madeline Island and the surrounding region.
Making things by hand, both useful and beautiful, is ingrained in the Island way. This promises to continue into the future as long as artists and craftspeople choose to live on or visit this magical place called Madeline Island.