Meal Plans
Three exquisite meals are prepared daily by a master chef and served in the stately Ranch dining room with sweeping views of the Rincon Mountains. In the morning you can indulge in fruit and yogurt, crisp bacon with eggs, or the Ranch's signature pancakes.
The gourmet buffet lunch with salads, seasonal vegetables and a daily variety of entrees will keep you energized for the rest of your workshop day.
In the evening, the southwest dinner cuisine will delight you and the Ranch barbeque at their Cottonwood Grove is always a highlight for the week.
During the week, several indoor and outdoor specialty dining events are held. These special events include the Cottonwood Grove Ranch Barbeque with live entertainment.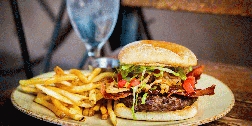 Prior to the workshop you will receive a dietary form for any special needs you may have.
Off-Campus Students
You may purchase a full meal plan even if you stay off campus. We highly recommend this because you will enjoy the camaraderie of your instructor and classmates and it will greatly enhance your workshop experience.
"The meals at the Ranch were spectacular and we really enjoyed the Barbeque event night at their Cottonwood Grove. You won't find a setting like this anywhere."
– MISA West Alum