Artist Nancy Crow has been making quilts for 40 years, maintaining large studios and a teaching facility on her 100-acre farm east of Columbus, Ohio. Named a Fellow of the American Craft Council, she has received the major award, The Individual Artist's Fellowship, from the Ohio Arts Council twice and The National Living Treasure Award from the University of North Carolina, Wilmington. In addition, she was named a Master of her Medium in Textiles 2019 by The James Renwick Alliance, associated with The Renwick Gallery/Smithsonian Institution.
Born: Loudonville, Ohio
Education: BFA in ceramics from Ohio State University (1965)
MFA in ceramics with minor in tapestry weaving from Ohio State University (1969)
2020-2021 solo exhibition:
University of Nebraska-Lincoln: JULY 31, 2020 – MARCH 7, 2021
2019 solo exhibition:
Mansfield Art Center, Mansfield, Ohio: June 23 – July 21, 2019
2018-2020 invitational exhibitions include:
Higbee Gallery, Kent State University Museum, Kent, Ohio: July 19, 2019-April 12, 2020
The Springfield Museum of Art: January 4 – March 29, 2020
The Huntington Museum of Art: July 13 – October 13, 2019
The Susquehanna Art Museum, Pennsylvania: October 13, 2018 – January 20, 2019
The Textile Museum of Canada, Toronto: May 30 – September 23, 2018
The Ohio State University, Urban Arts Space Gallery, July 17- September 22, 2018
Additional major solo exhibitions include:
Renwick Gallery/Smithsonian Institution
NYC Museum of Arts & Design
University of Nebraska/Lincoln
Cultural Arts Museum, Konstanz, Germany
TUCH+TECHNIK TEXTIL Museum, Neumunster, Germany
Auckland Art Museum, NZ
Carnegie Mellon University's Regina Miller Gouger Galleries
The Fuller Craft Museum
The Schweinfurth Memorial Art Center
The Shelburne Museum, Vermont
Muskegon Museum of Art, Michigan
Nancy's work is in the collection of:
The Boston Museum of Fine Arts
Renwick Gallery/National Museum of American Art/Smithsonian Institution
Museum of Arts & Design, NYC
Museum of American Folk Art, NYC
TUCH+TECHNIK TEXTIL Museum, Neumunster, Germany
Indianapolis Museum of Art, Indianapolis, Indiana
Miami University Art Museum, Oxford, Ohio
Curator of the following exhibitions:
2010: COLOR IMPROVISATIONS 1 (traveled 2010-2013)
2016: COLOR IMPROVISATIONS 2 (opened March 2016, Tuch+Technik Textil Museum, Neumunster, Germany. Traveled in Europe and is currently traveling in North America through March 2020)
MATERIAL PULSES: 8 VIEWPOINTS opened May 6, 2016, Riffe Gallery, Columbus, Ohio. (Currently traveling in the USA.)
MASTERY: SUSTAINING MOMENTUM opened May 30)-September 5, 2016 at The Dairy Barn, Athens, Ohio.
CIRCULAR ABSTRACTIONS: BULL'S EYES QUILTS opened August 2016, Muskegon Museum of Art, Michigan. (Traveled in the USA through 2019.)
Books/Catalogues Authored:
SELF-PORTRAITS: MONO-PRINTS
CIRCULAR ABSTRACTIONS: BULL'S EYES QUILTS
COLOR IMPROVISATIONS
COLOR IMPROVISATIONS 2
CROSSROADS: CONSTRUCTIONS, MARKINGS, AND STRUCTURES NANCY CROW NANCY CROW: IMPROVISATIONAL QUILTS GRADATIONS: FROM THE STUDIO OF NANCY CROW NANCY CROW: WORK IN TRANSITION NANCY CROW: QUILTS AND INFLUENCES
Crow Bar n Art Retreats – http://www.nancycrow.com/ aboutartretreats.html
Maintains a large teaching facility on her farm that opens twice a year, 4 weeks in the spring and 4 weeks in the fall, with a total of 160 students for each 4 weeks.
Has taught in: :
South Africa, New Zealand, Australia, Austria, Japan, France, Finland, Germany, Switzerland, Canada, and the USA.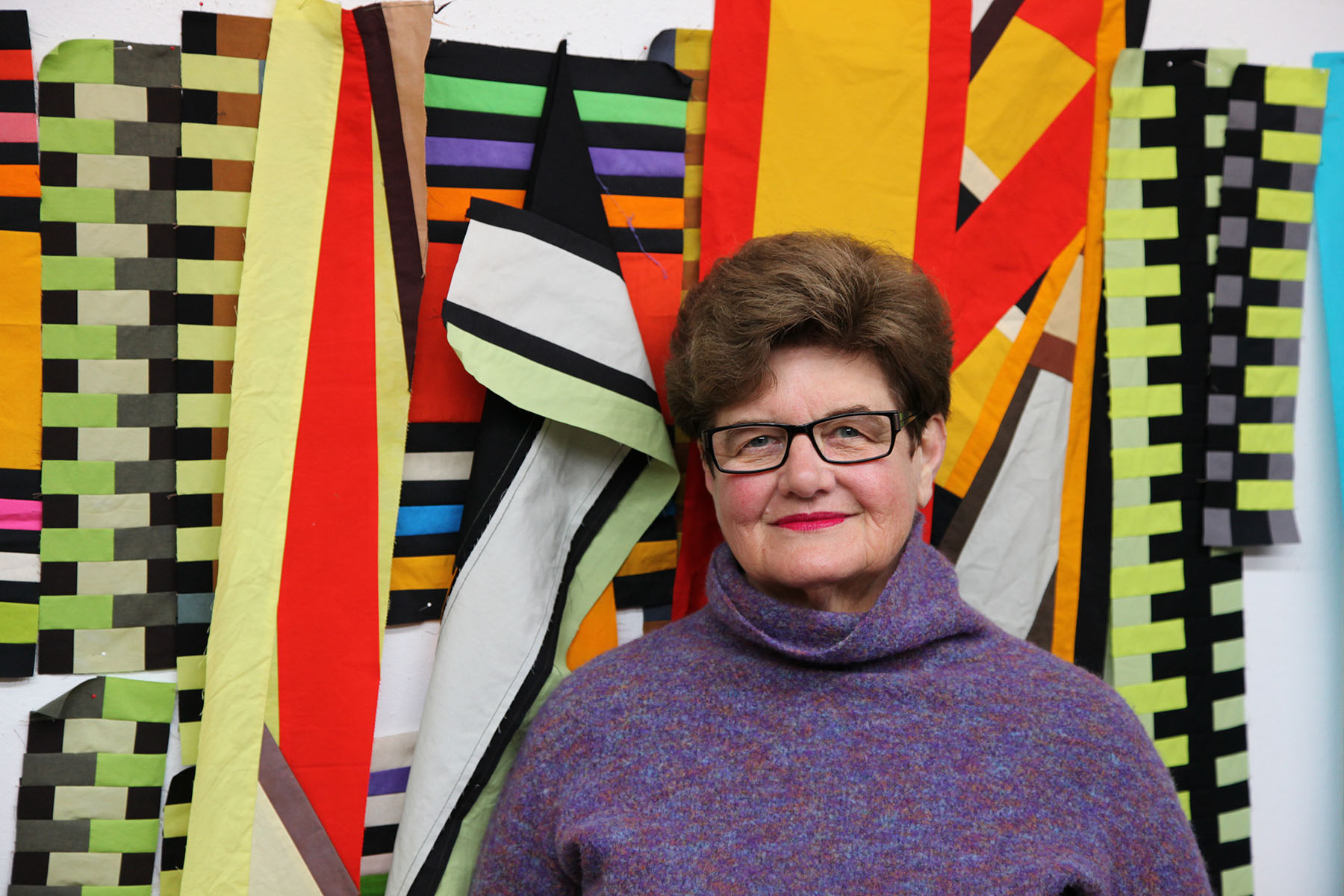 STRIP-PIECING & RESTRUCTURING: Part I At Tanque Verde Ranch

Quilting

MISA West (Tucson)

Start Date: 01/08/2024

End Date: 01/12/2024

$1350.00

Learn More

STRIP-PIECING & RESTRUCTURING: Part II At Tanque Verde Ranch

Quilting

MISA West (Tucson)

Start Date: 01/15/2024

End Date: 01/19/2024

$1350.00

Learn More