Watercolor Unleashed! Plein Air to Studio on LAKE SUPERIOR
Genre:
Plein Air Painting
Location:
Madeline Island
Watercolor Unleashed! Plein Air to Studio on LAKE SUPERIOR
Whether painting a mountain stream or a crashing wave, learn to make water look wet and splashy as it cascades over rocks and boulders or upon a sandy beach. We will focus on the "anatomy" of a waterfall and a wave, together with the rocks and foliage intrinsic to the scenery. Techniques will be demonstrated to address the various puzzles with which the artist is faced when painting water in motion, a stunning, fascinating and challenging subject!
This watercolor workshop will focus on WAVES and WATERFALLS. Two days will be spent on field trips for "light" plein air studies. Three days will be spent in the MISA studio. If painting water is your passion, you will learn about and gain insight that will apply to these and your future "waterscapes"
PLEIN AIR DAYS WILL FOCUS ON:
– Immersing ourselves into and truly experiencing the landscape through "light" plein air, i.e. sketching, watercolor-sketching using minimal supplies, or simply taking photos. This workshop is dedicated to the idea that the joy of a plein air experience should be accessible to all – with that in mind, the amount of equipment recommended for this workshop is very much on the light and portable side.
– You will be encouraged to find several scenes you would like to spend more time with later, in the studio, and doing simple studies for that purpose. Naturally, if you should decide to stay with one composition and develop it further, the choice is yours. There will be lessons that lead you through a process of simplifying the scene and painting process.
– Our overriding goal: painting fun with no pressure!
STUDIO LESSONS WILL FOCUS ON:
 Using material gathered during the plein air excursions for more carefully thought-out paintings
*Note: you will be more than welcome to use Julie's reference photo (to be shared electronically) and follow her steps OR use your own reference material OR do BOTH – applying the "follow along" steps to your own composition.
*Note: In the case of inclement weather, reference photos will be supplied (also to be shared electronically) or you may use your own.
– Maintaining the plein air "feel" and sensitivity in the studio painting
– Using your reference photos as inspiration rather than absolute visual fact
– Basic "anatomy" of a waterfall and a wave
– Watercolor methods and techniques that apply to the subject-matter
– Negative painting lessons for watercolor
– Creative use of color – color mixing – painting with green – "using color as value" (as seen in her North Light Books and Videos)
There will be demos, instruction at all levels as needed, critique and lots of painting time. Class time will be structured, yet open enough to accommodate the artistic spirit within us all. All levels are welcome and encouraged to attend. The only prerequisite is an attitude of joy in the act of painting!
| Dates: | 09/09/2024 to 09/13/2024 |
| --- | --- |
| Level: | All Levels |
| Tuition: | $925.00 |
| Materials List: | Download |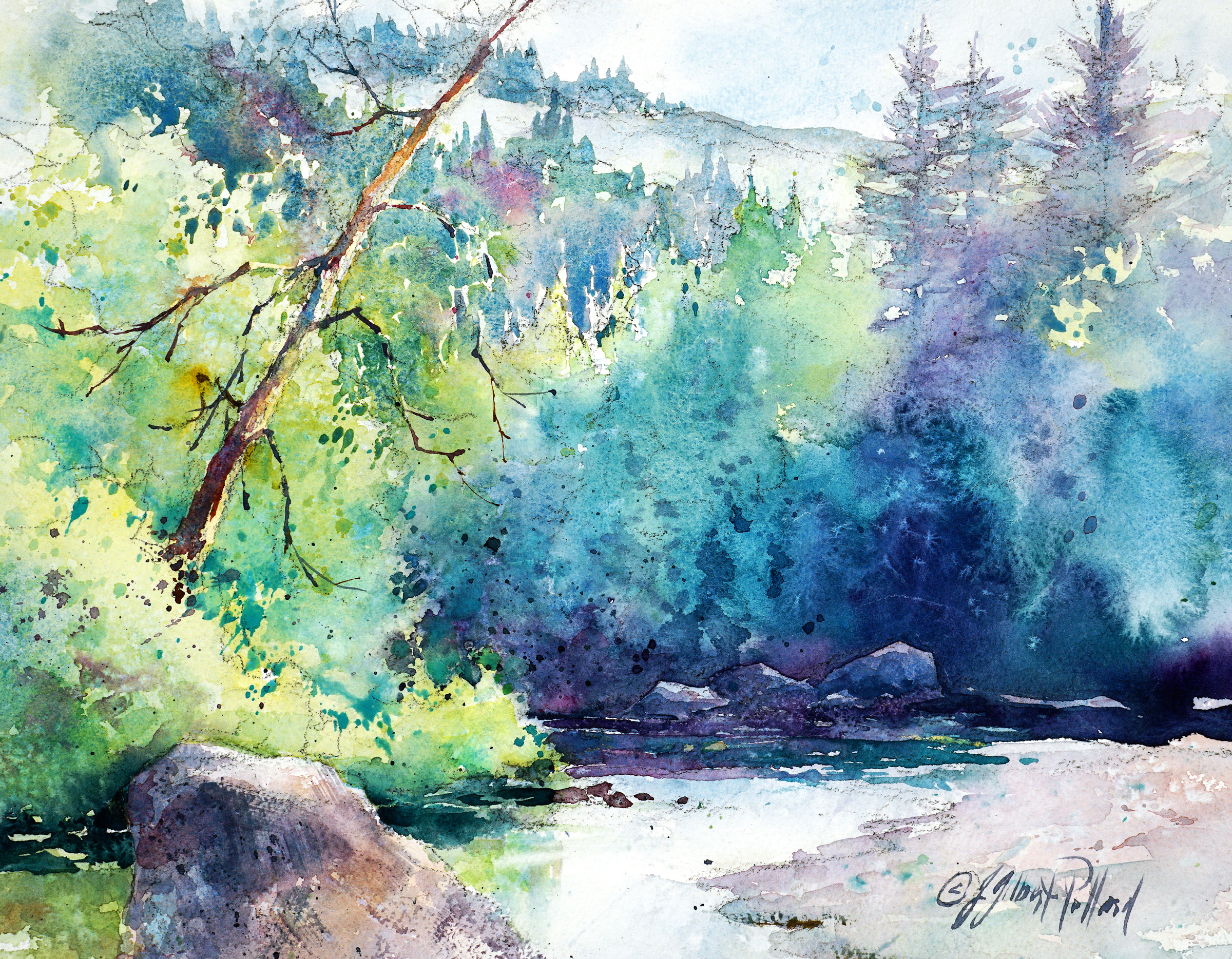 Ordering Online is 100% Safe & Secure
Similar Workshops You May Like