High Desert Hues in Georgia O'Keeffe Country
Location:
MISA West (Santa Fe)
High Desert Hues in Georgia O'Keeffe Country
Jennifer Sampou is thrilled to offer her 3rd annual High Desert Hues, a 5 day workshop in Santa Fe, NM for quilters ready to be inspired by the art of Georgia O'Keeffe, and absorb the "sense of place" into their creative quilt making.
Using SKY ombrés and other gradient type fabrics, students learn how to unlock the magic of ombres in a five step process which explores interpreting art to quilt, line drawing, bold color blocking and sewing big luscious curves with ease.
Jennifer will offer daily lessons on shape, value, design and balance. Various sewing techniques for successful piecing, pressing and construction will be workshopped as students play and create their own unique piece. A combination of structure and improvisation is what Jennifer loves to teach as students learn new concepts yet also set boundaries to keep rhythm and some comfort to their process. Jennifer's own OMBRÉ QUILTS Book (C&T Publishing) will be referenced and expanded upon.
Two docent led outings include The Georgia O'Keeffe museum and Ghost Ranch, where O'Keeffe spent much of her time. Take an evening to witness a sunset sure to inspire and enhance student's work. Jennifer loves to engage with her students with practical art/making knowledge, humorous stories and meaningful conversations all blended up, like a good SKY ombre.
Santa Fe is an enchanted artisan's haven known for its rich Native American/Mexican/Spanish history and the first US city to be chosen by UNESCO as a Creative City, one of only nine cities in the world to hold this designation. What better place to create courageous and colorful quilts?
*Tuition includes a private docent tour at The Georgia O'Keeffe Museum. Ghost Ranch is a seperate charge.
Student Quotes about retreat:
"The most inspiring and creative week ever! Wonderful location and the best teacher ever!" Linda T.
"One of the most inspiring weeks I have ever experienced as an artist and quilt maker. Do not miss this opportunity." Michelle W.
"The SKY ombre brought life, movement and glow to my project like no other fabric" Debbie Z.
| Dates: | 03/04/2024 to 03/08/2024 |
| --- | --- |
| Level: | All Levels |
| Tuition: | $950.00 |
| Materials List: | Download |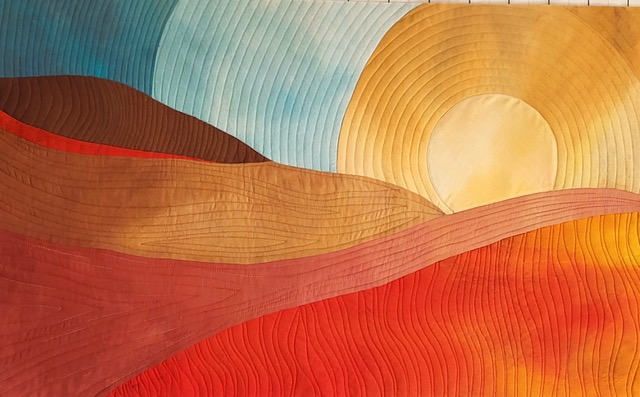 Ordering Online is 100% Safe & Secure
Similar Workshops You May Like